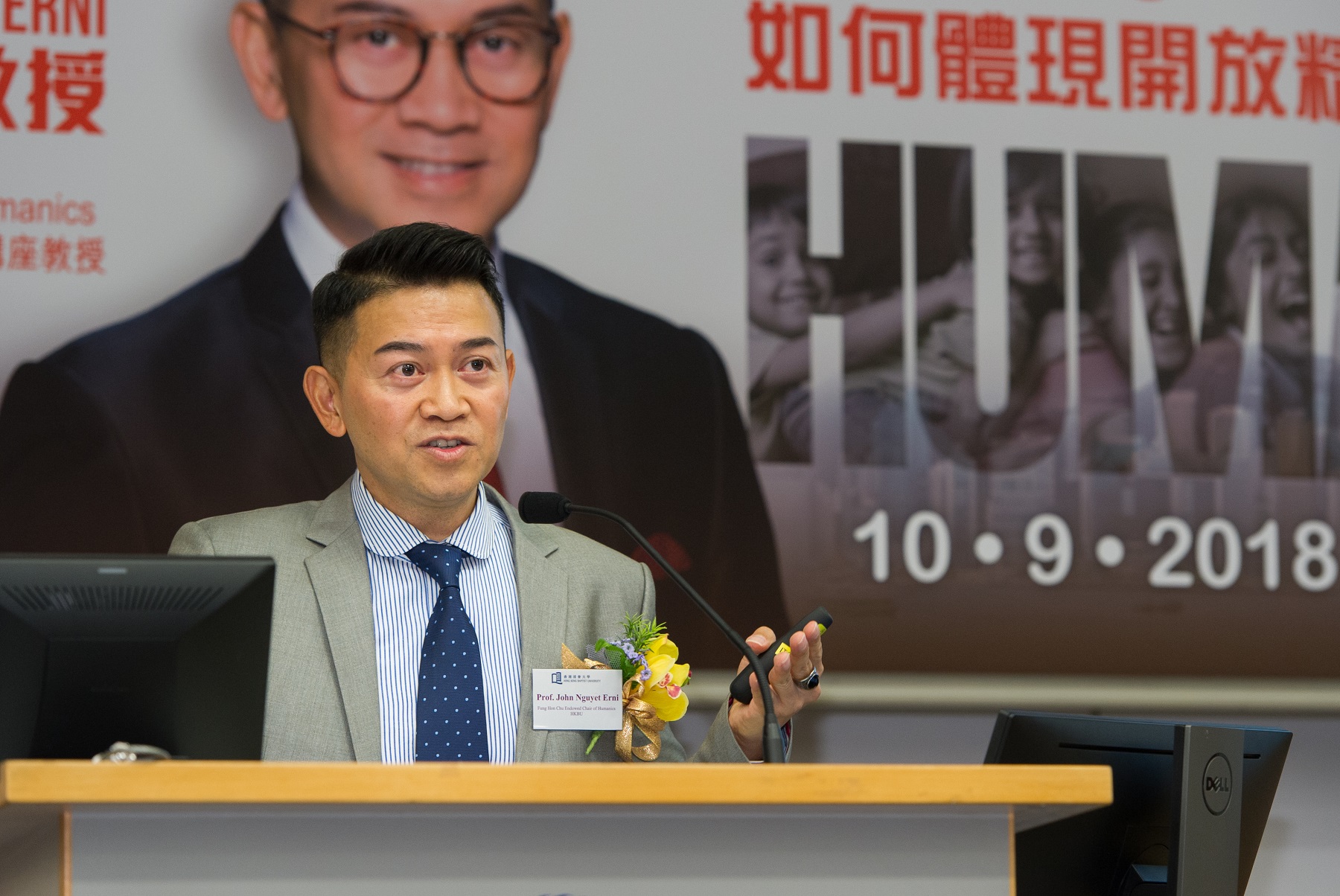 Press Release by HKBU Public Affairs (reposted)
Hong Kong Baptist University held an inaugural lecture yesterday (10 September) by Professor John Erni, who was awarded the title of The Fung Hon Chu Endowed Chair of Humanics, on "How Do We Inhabit Openness? Rethinking Whole Person Education".
The guests of honour who attended the occasion included Chairman of the Fung Hon Chu Foundation and Group Chairman of the Fung Group Dr Victor Fung, Chairman of the Council and the Court of HKBU Mr Cheng Yan-kee, and President and Vice-Chancellor Professor Roland Chin.
Citing his research and community service on ethnic minorities, Professor Erni shared his thinking on the question of "openness", which he believes can reinvigorate the ethos of Whole Person Education, particularly through the concept of "critical diversity". Discussing inclusion and the "strangers" around us, Professor Erni said that from a humanistic, anthropological and cultural perspective, the designation of the "whole person" demands our ability to navigate among the boundedness of society, the groundedness of our lived experience, and the openness of a seemingly boundless horizon.
Professor John Erni is Chair Professor and Head of the Department of Humanities and Creative Writing of HKBU. He has published in the areas of international and Asia-based media and cultural studies, human rights philosophy and politics, gender studies, youth popular culture studies, and critical public health studies. In the past decade, one of his primary studies has been on ethnic minorities in Hong Kong, due in part to his multicultural upbringing. In recent years, Professor Erni has also received a number of grants to study issues related to human rights and cultural citizenship. He is now leading several interdisciplinary cultural studies research projects in collaboration with renowned overseas institutes or universities.
An Endowed Chair is among the highest honours that can be bestowed upon prominent academics at HKBU in recognition of their accomplishments and in support of their scholarly endeavours. The Fung Hon Chu Endowed Chair of Humanics was established with the generous donation from the Fung Hon Chu Foundation in 2006 to commemorate the late Mr. Fung Hon Chu as well as the 100th anniversary of the Li & Fung Group. It is the Fung family's wish that this Endowed Chair will help the University uphold its mission of Whole Person Education and cultivate all-round talents for the benefit of society.
浸大冠名講座教授陳錦榮教授就職講座談體現開放精神
香港浸會大學昨日(9月10日)舉行就職講座,由馮漢柱基金全人教育講座教授陳錦榮教授主講「如何體現開放精神?全人教育的再思」。
出席講座的嘉賓包括馮漢柱慈善基金主席及馮氏集團主席馮國經博士、浸大校董會暨諮議會主席鄭恩基先生和校長錢大康教授。
陳教授在講座中,以他的少數族裔研究和社會服務為例,分享他在「開放精神這課題上的獨特見解,並闡釋如何透過「批判多元」這概念,為全人教育理念注入新的活力。在有關共融和「陌生人」的討論中,他指出從人文學、人類學和文化角度,要達致「全人」,大家需要有能力駕馭社會的局限性、有實在的生活經驗,以及近乎無際視野的開放態度。
陳錦榮教授現任浸大人文及創作系講座教授兼系主任,他的研究著作涉及多個領域,包括國際及亞洲媒體與文化研究、人權哲學及政治、性別研究、青少年流行文化、重要公共衛生議題等。陳教授十年前開始從事少數族裔文化研究,這與他的多元文化成長背景不無關係。此外,陳教授近年也獲得多項資助,進行與人權與文化公民意識相關的研究。他現正與不同國際知名機構和大學合作,帶領多個跨學科文化研究項目。
「冠名講座教授席」是浸大授予校內傑出學者的其中一項最崇高榮譽,以表彰他們的貢獻,並支持他們的學術活動。馮漢柱基金全人教育講座教授席由馮漢柱慈善基金於2006年捐資成立,除了紀念已故的馮漢柱先生,亦為利豐集團創立一百週年誌慶。馮氏家族期望透過設立該教授席,協助浸大實踐全人教育的理念,為社會培育更多全面的人才,推進社會發展。
The abbreviated lecture
Lecture in full