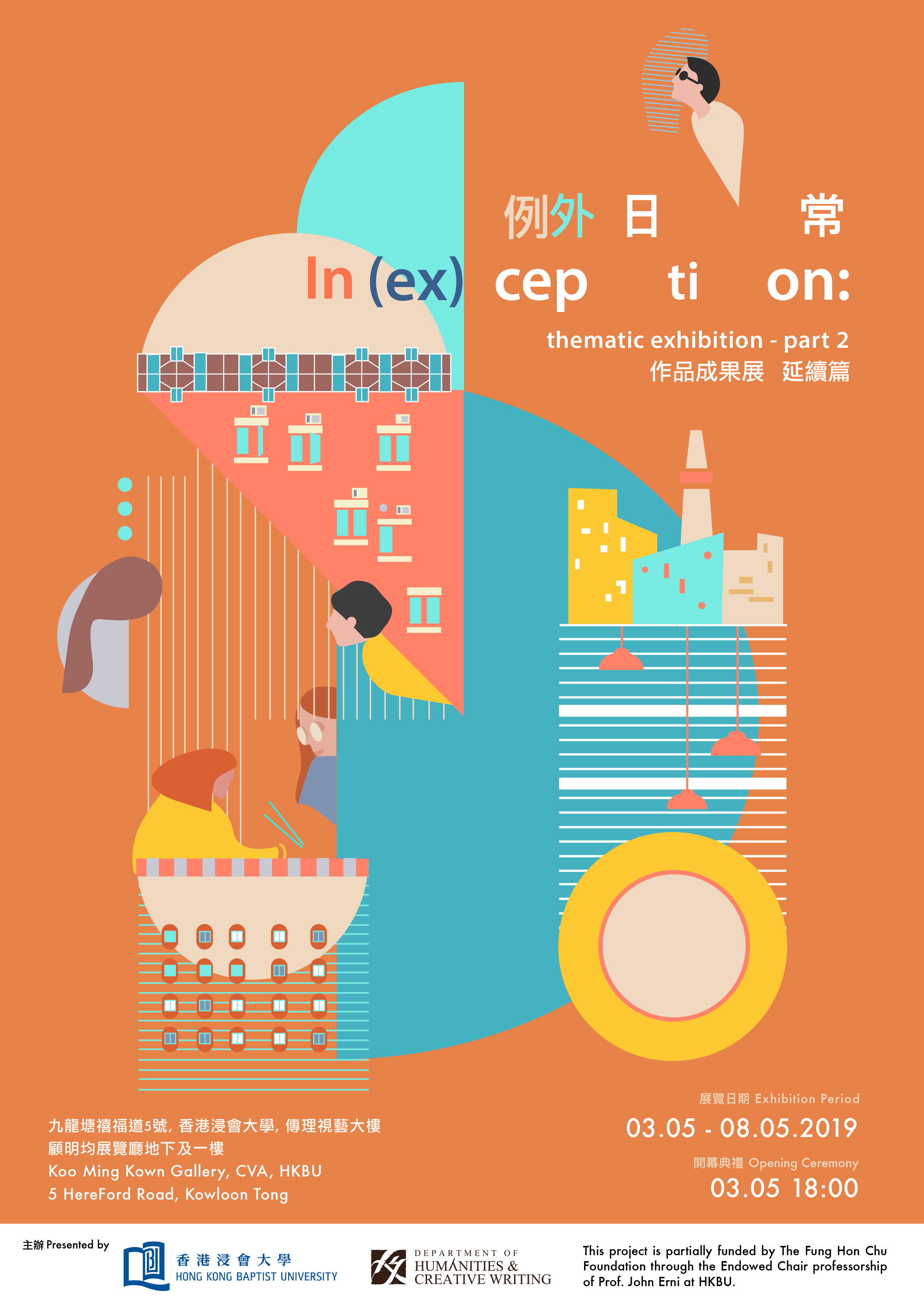 Curators: John Erni and Louis Ho
Inspired by the In(ex)ception: Summer camp and thematic exhibition (2018) curated by John Erni and Louis Ho, which aims to encourage interaction between different generations and ethnic groups through art creation, students of the course HUMN2047 City, Space and Creativity, further ask: What do minorities mean in our city? Where are they? How do they live? Do they engage in creative arts? After all, who are always being "in(ex)cepted"?
The project is initiated by the Department of Humanities and Creative Writing (HMW) of Hong Kong Baptist University. Along with the works contributed by local young and veteran artists which were exhibited in 2018, this current exhibition showcases the works created by HMW students who explore related questions concerning space, minorities and the city through their creative practices.
策劃:陳錦榮、何建宗
在2018年,陳錦榮及何建宗策劃了《例外日常-夏令營與作品成果展》,透過藝術創作鼓勵不同世代及少數族裔的互動。今年,他們的學生,課程《HUMN2047:城市、空間與創意》的同學,受到啟發,繼而探問:這些小眾對城市有甚麼意義?他們身處何方?過著怎樣的生活?又有否參與藝術創作呢?究竟,誰在日常,又總被例外?
本計劃由香港浸會大學人文及創作系主辦。除了展出去年參展的本地年青及著名藝術家的作品,是次展覽還展示了人文及創作系同學的習作,呈現他們透過創作實踐,探索空間、小眾及城市相關的問題。